Elsa and Unicorn
If you are a fan of Frozen, you might already have some ideas of Elsa's favorite food or hobbies. Then what would be Elsa's favorite animal? Off the top of my head, I can think of some animals seen in the film, such as reindeer, ducks, cats, etc… In this article, we try to answer this question.
Unicorn
Let's get straight to the point. It seems that Elsa's favorite (or at least interested) animal is unicorn. Throughout the film, she shows much interest in unicorns or related stuff, such as unicorns themselves, dolls, or toys. I had actually mentioned this in some previous articles. Still, in this post, I'm going to deliver more detailed explanations.
Child Elsa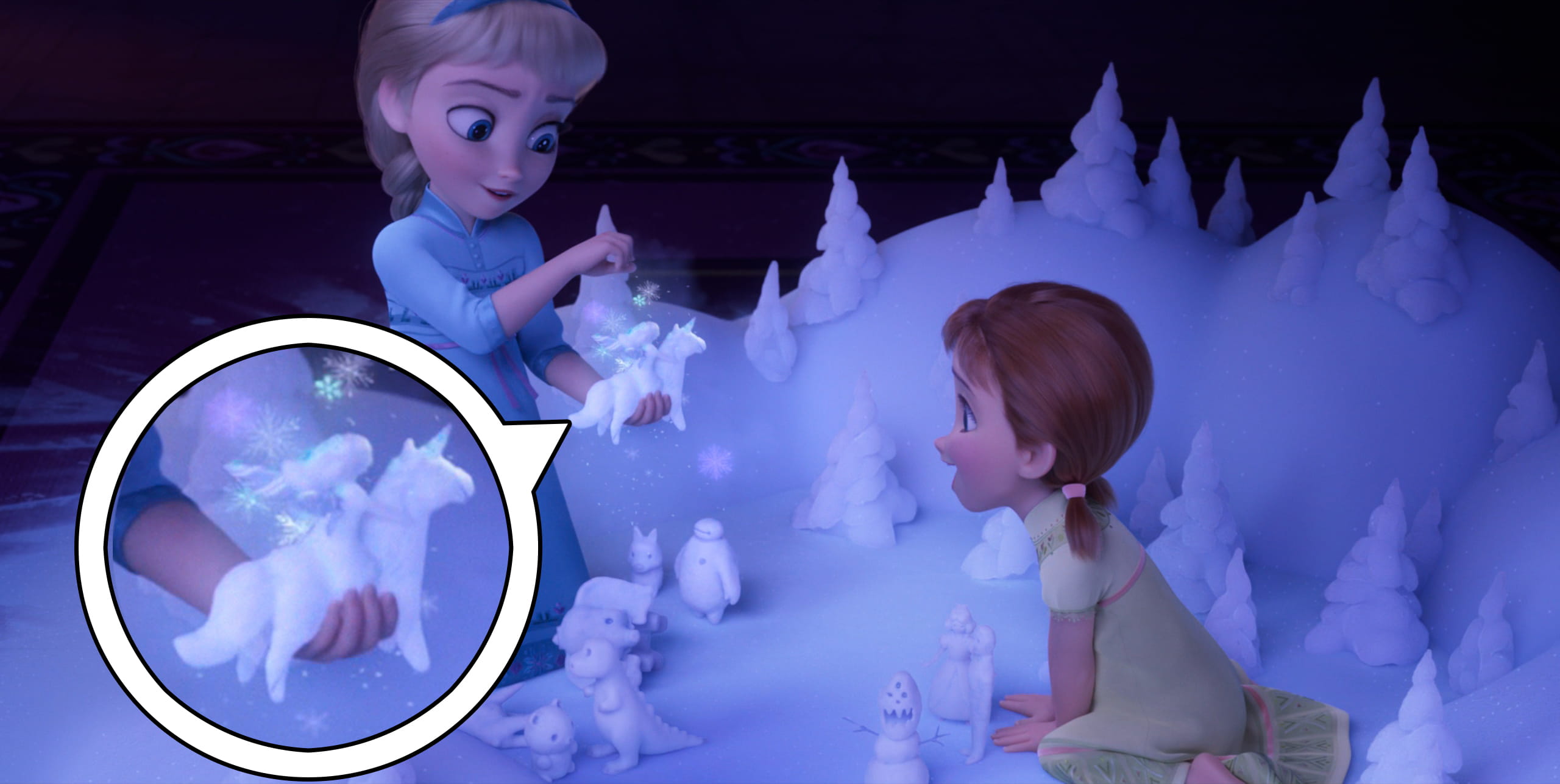 We first observe Elsa and Anna playing in the Enchanted forest. Elsa creates a snow fairy queen for Anna's call. The thing is, the fairy queen she made is riding a unicorn. In the above figure, we can see the fairy queen riding on a horse, which definitely has a single horn.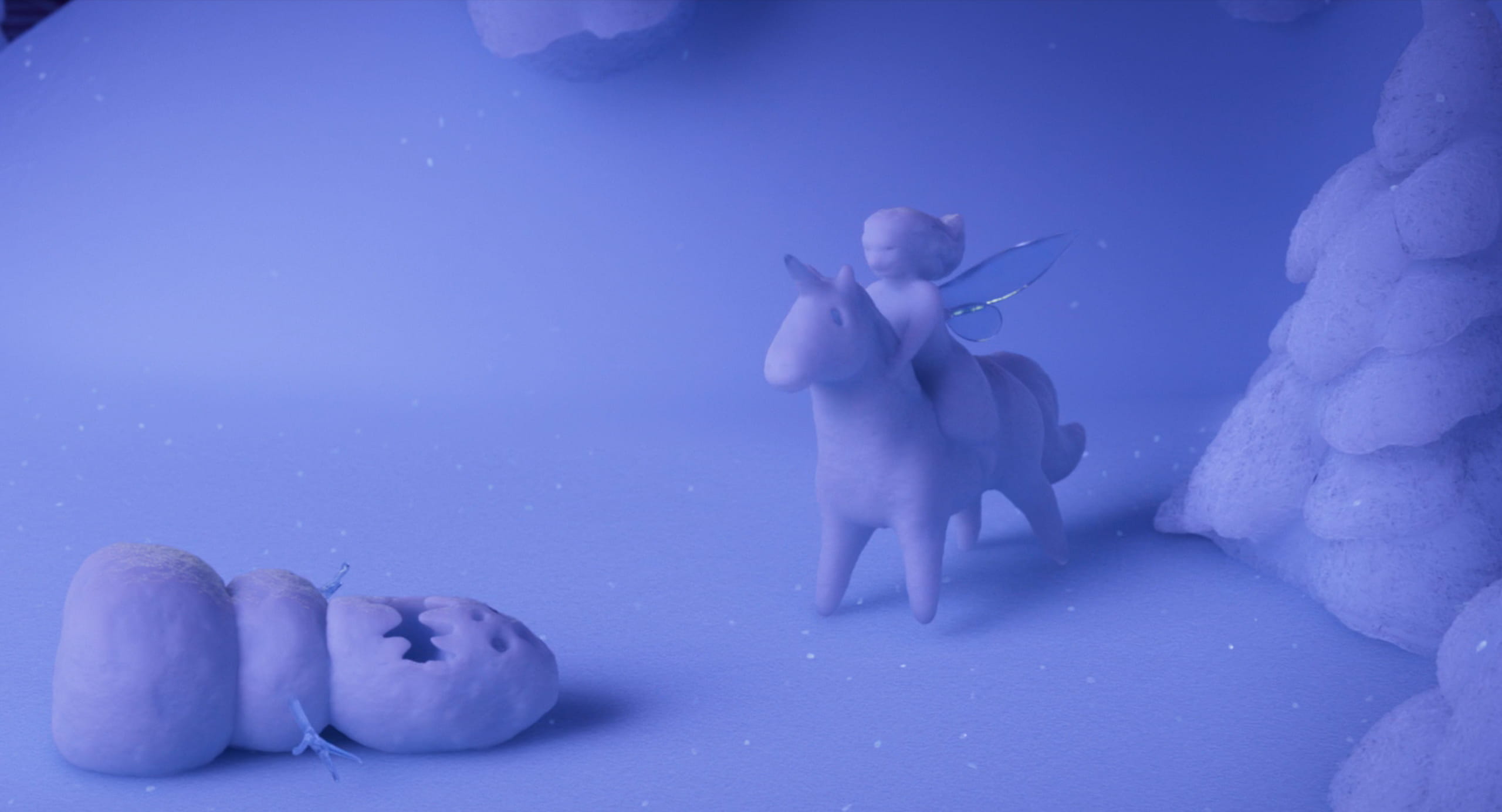 If we take a closer look, the fairy queen looks like a typical fairy with wings, as we have seen in fairy tales. The horse has a single horn, so it should be a unicorn.
Unicorn doll around the window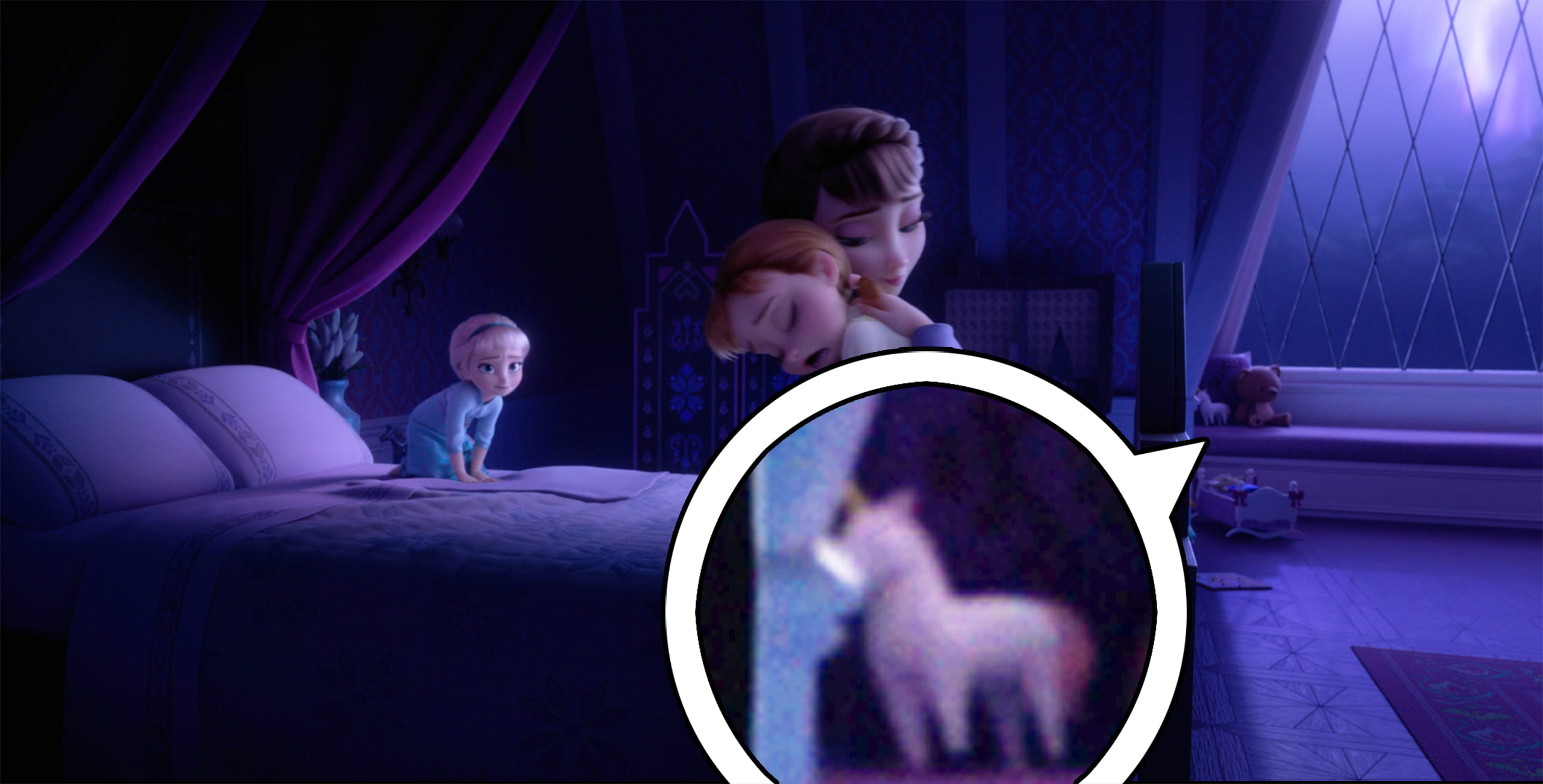 Now, pay attention to the window side. It's dark, but we can see some dolls around the window. The right one is a bear doll, and the left one, after some color enhancement, seems like a unicorn doll. The overall shape looks similar to the snow unicorn she had made.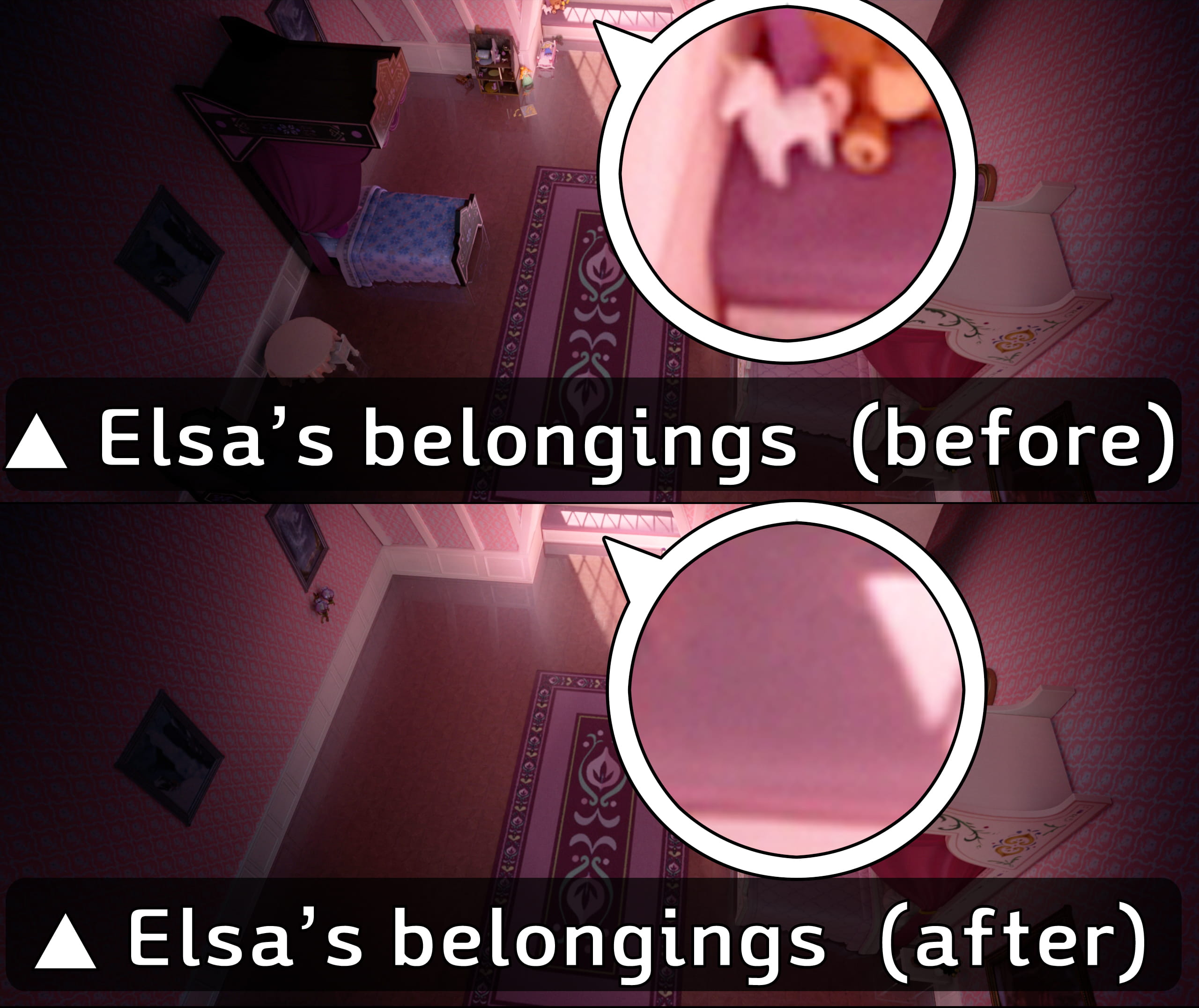 As I mentioned in the previous article, these belong to Elsa. When her room gets separated after hitting Anna's head, she takes her belongings, and we can find she takes those dolls around the window.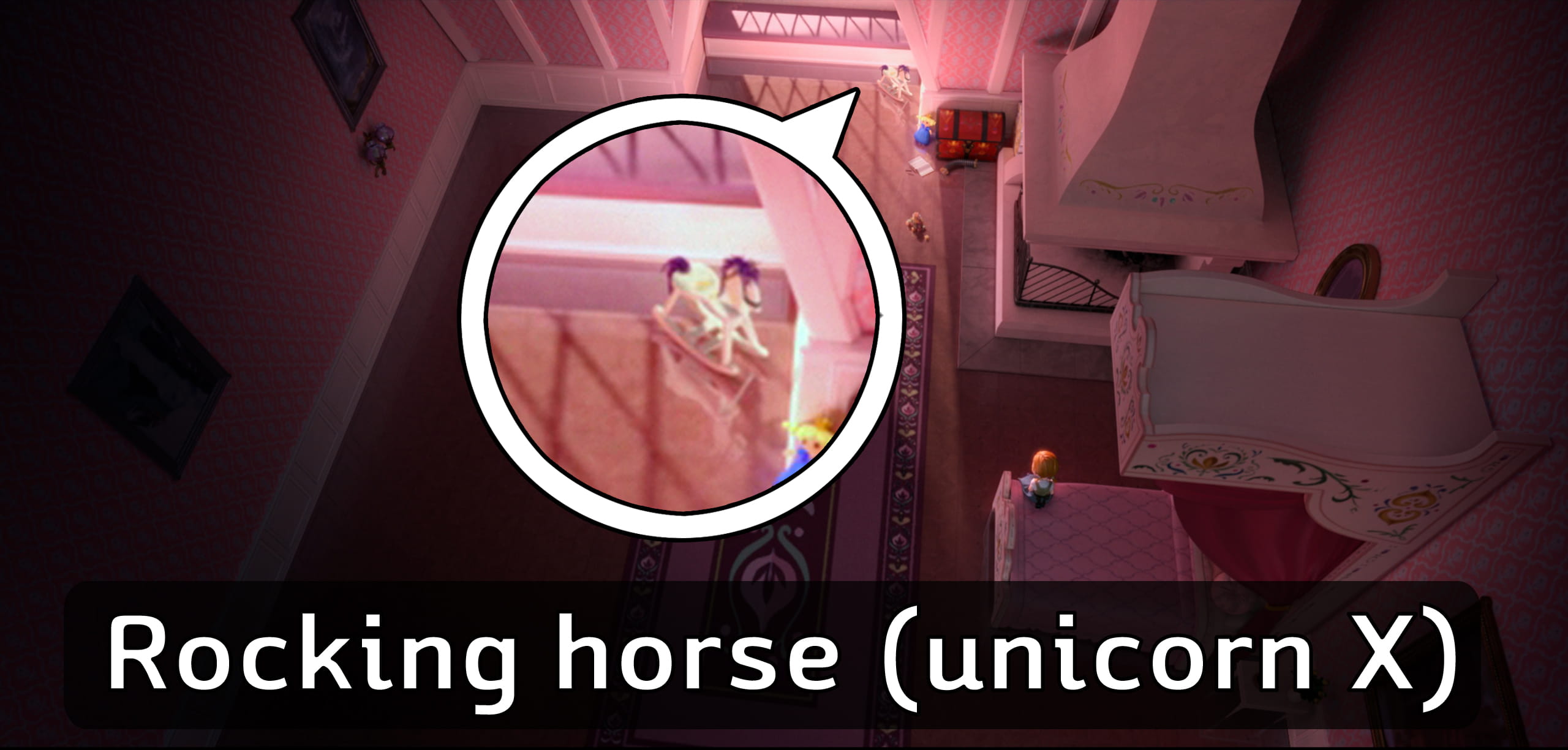 Interestingly, we see one more horse-like toy around the window in the same scene, but Elsa doesn't bring it. Of course, the toys on the right half belong to Anna, so Elsa didn't bring them, but if that rocking horse was Elsa's toy, she must have chosen the design to be a unicorn one, and she would have brought it when she moves the room.
Wooden unicorn statue on the table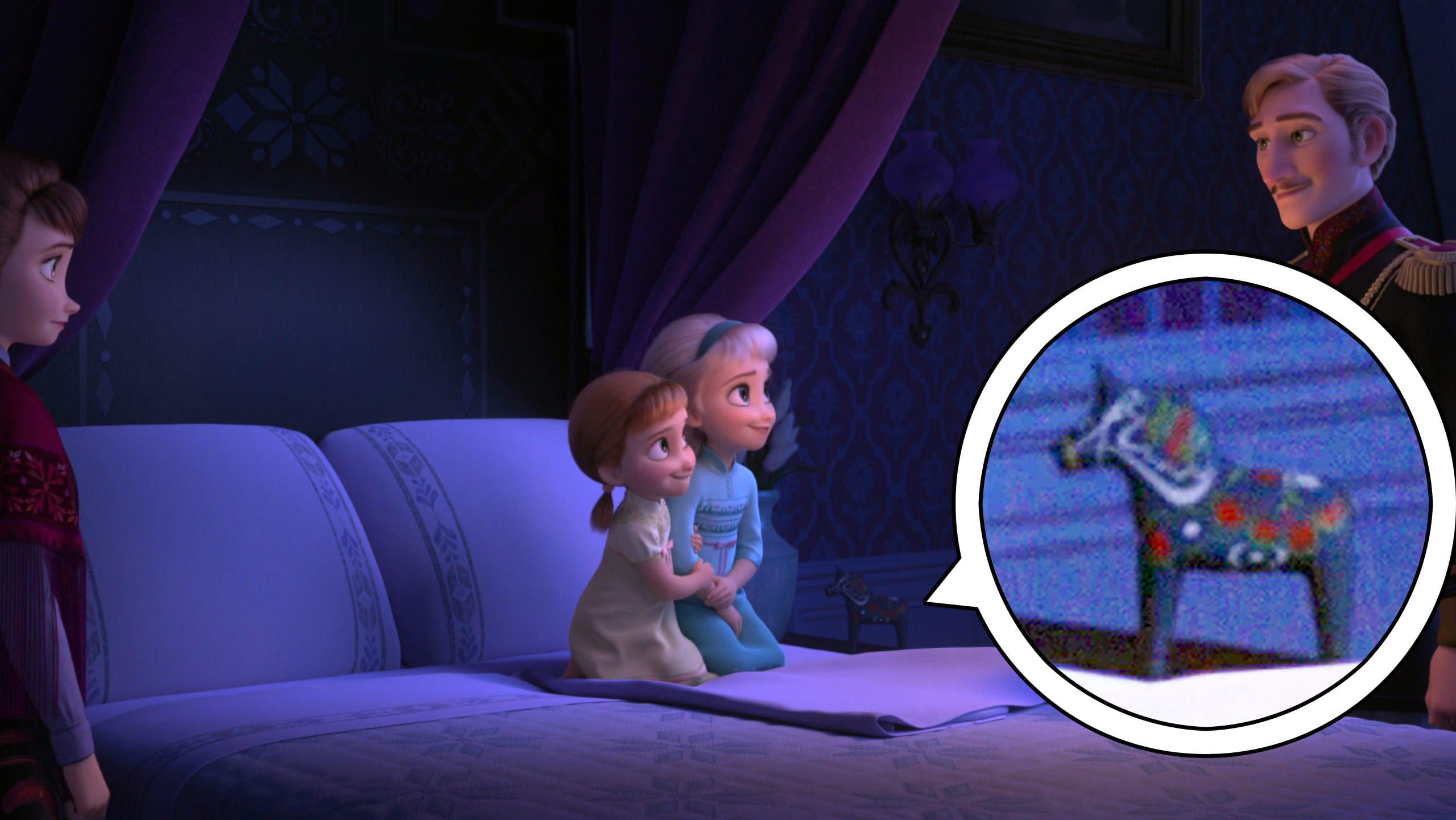 Elsa actually has one more unicorn merch. It's quite difficult to distinguish from the dark background. Still, we can spot a small wooden-made unicorn statue on the small table next to Elsa's bed. Its body has some kind of pattern. It seems like some rosemaling, but I'm not sure about that. Anyway, it has a single horn, so it must have been a unicorn.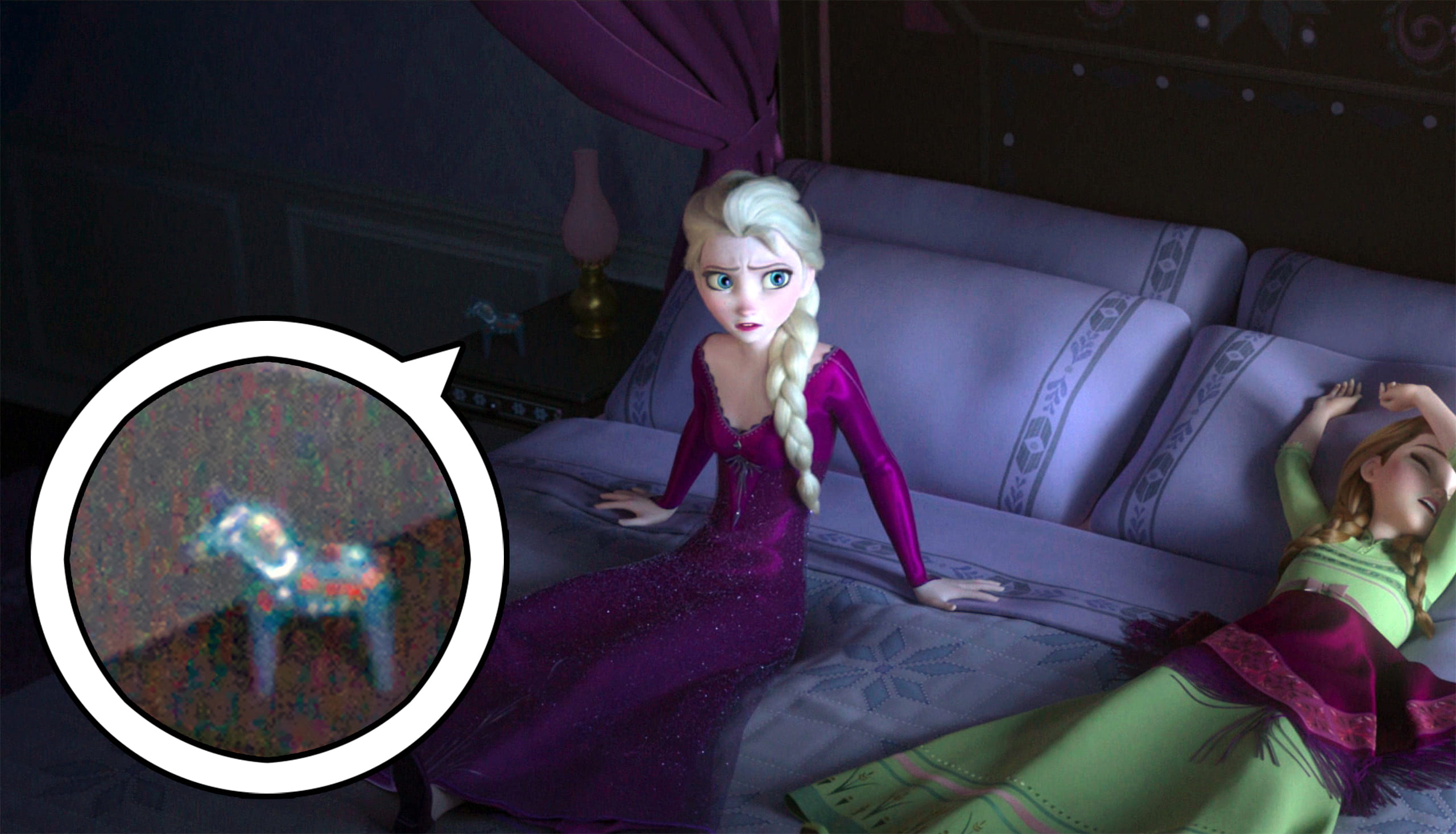 As mentioned before, this statue belongs to the child Elsa. After all these years, we see adult Elsa still carrying the unicorn statue on her bedroom table. Other stuff, such as flowers, has been changed to something else, but she still carries that unicorn merch.
Unicorn Olaf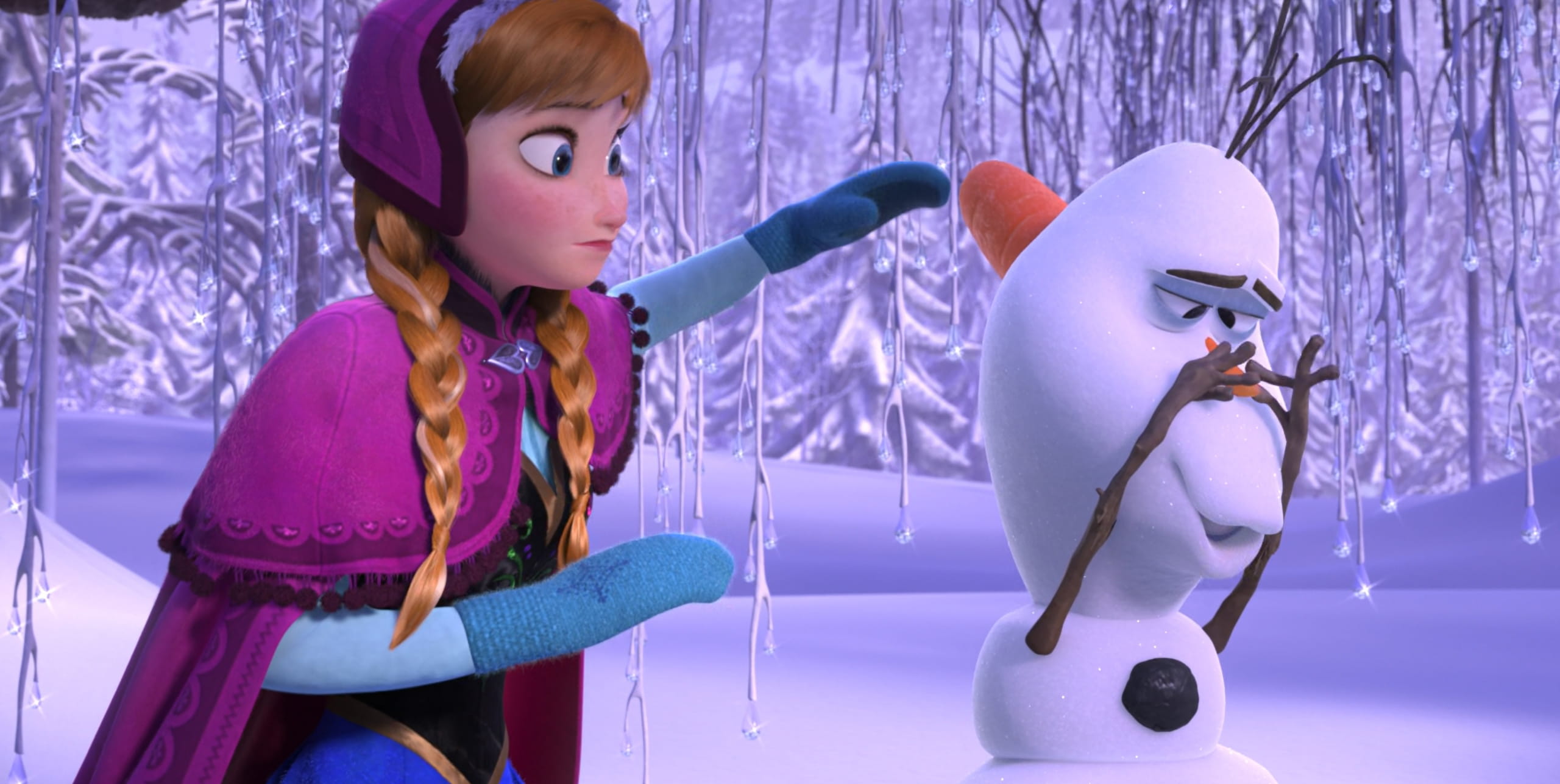 When Olaf first saw the carrot on his nose, he said it was like a baby unicorn. The point is that Olaf has little knowledge of the world and little of the magical creatures, such as huldrafolk, in this state. Then how would it be possible that he is aware of the magical creature unicorn?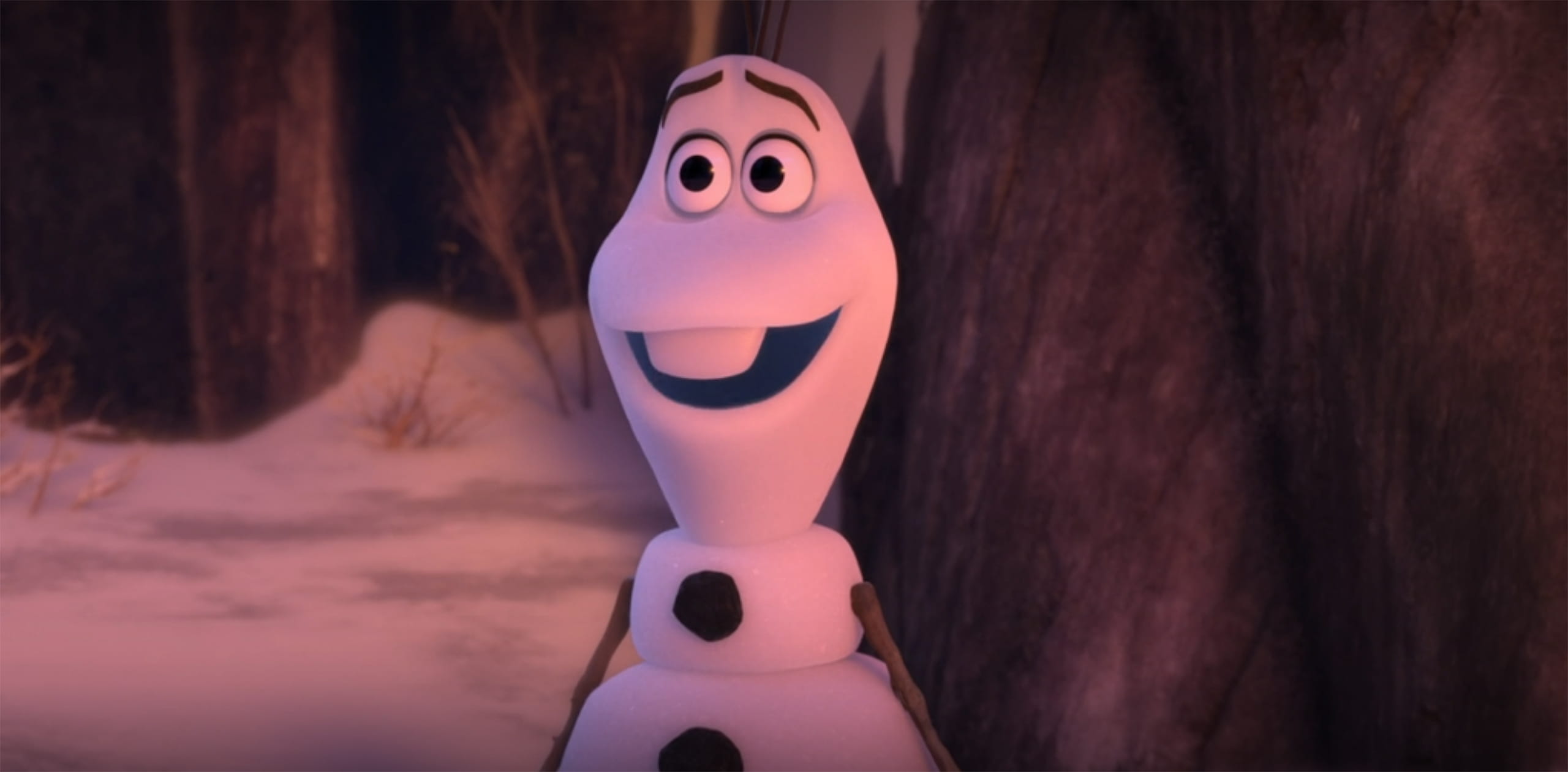 It's not canon, but it seems that some parts of Elsa's memory or knowledge have been transfered to Olaf when she had created him. In Once upon a snowman, Olaf had yet to be aware of his name or memories. After some events, however, he reminisces about Elsa and Anna's childhood memory and finds his true name.
How could this happen? At this state, Olaf hadn't yet met Elsa, so he should not have those memories. One simple explanation is like this: Since Elsa had created Olaf with her magic, some parts of her memory could have been transferred to Olaf. If we expand this idea, we can further say that some parts of her preference might have been transferred to Olaf, so Olaf, as well as Elsa, might also like the unicorn.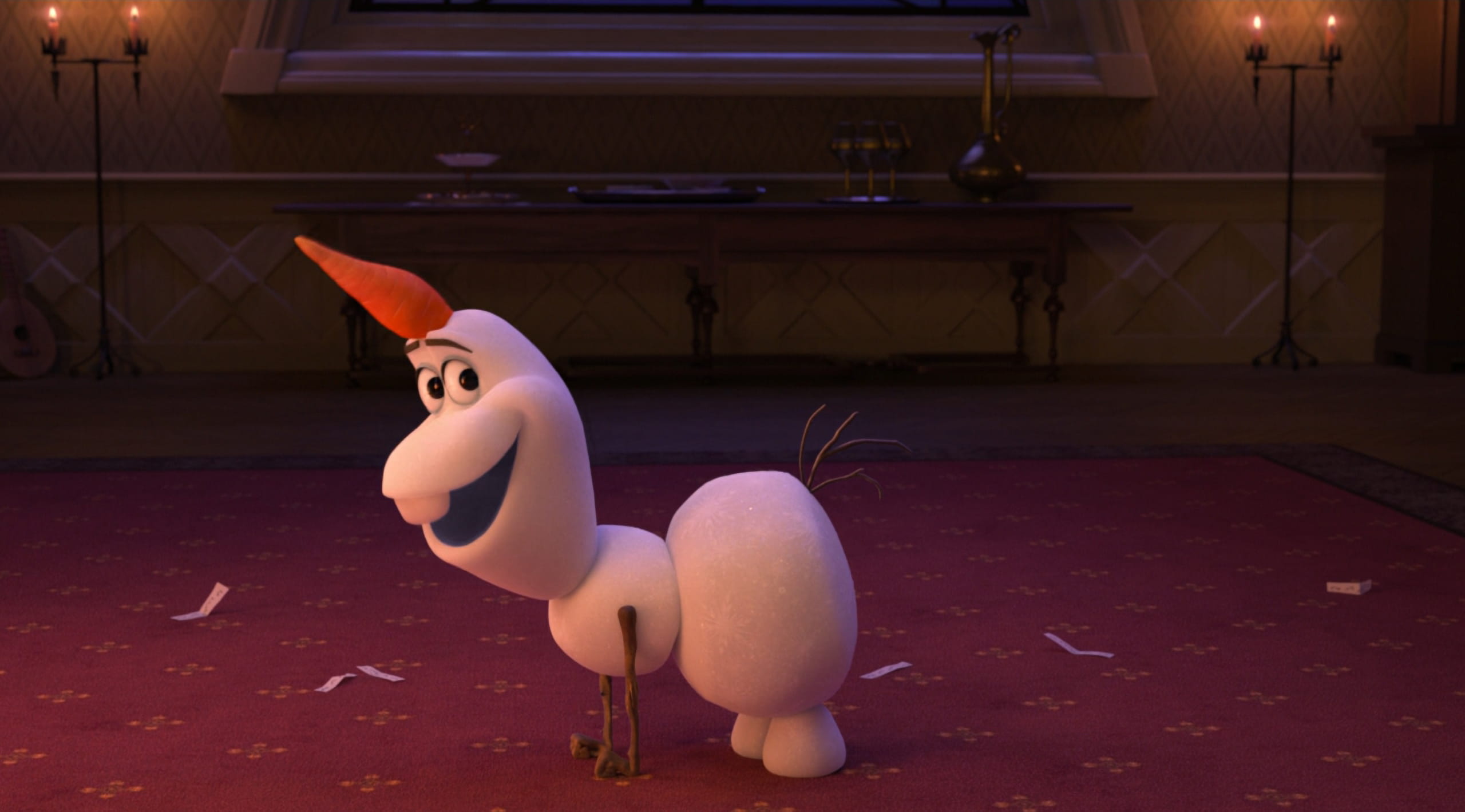 Olaf still seems to love unicorns, and so does Elsa, I guess.
Enchanted forest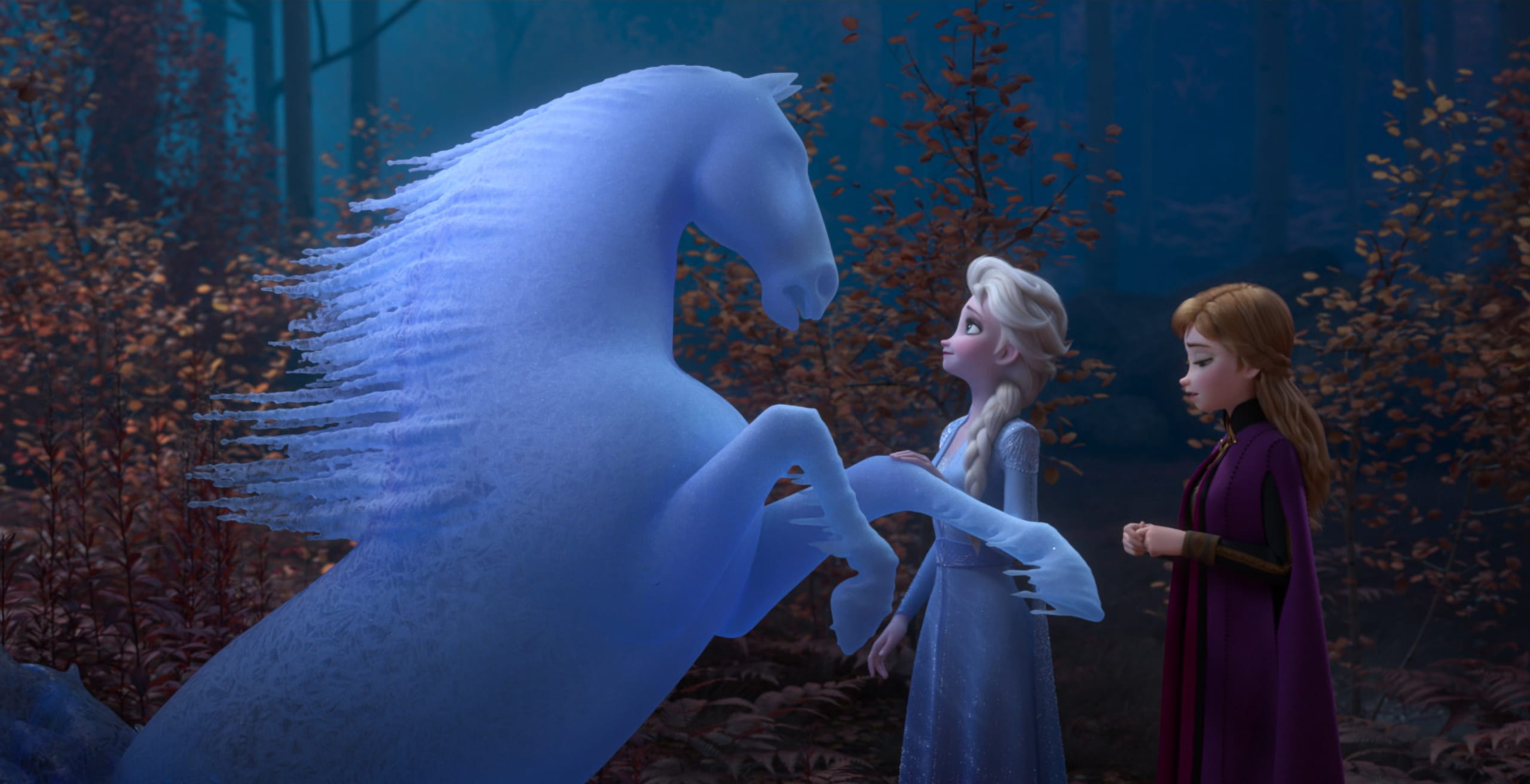 In the enchanted forest, the wind spirit Gale creates a bunch of ice sculptures. Among them, the only thing Elsa pays attention to is the horse-shaped sculpture. She does not show interest in the others, but gazes, smiles, and even pats them. Of course, it's not a unicorn but a normal horse since it has two ears. Its similarity to the unicorn seems to attract Elsa's attention.
Summary
Throughout the Frozen series, Elsa shows much interest in the unicorn. Based on these observations, we can say Elsa's favorite animal is a unicorn.